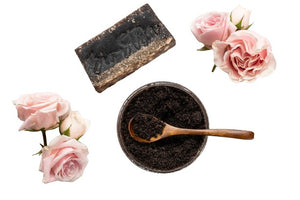 Coffee body scrub for stretch marks, cellulite

Answer: Experience the power of BLACK AFRICAN COFFEE SOAP & COFFEE SCRUB CELLULITE! Our unique handmade coffee scrub is specially formulated to reduce the appearance of stretch marks and cellulite. This natural exfoliating scrub helps to stimulate circulation, promote healthy skin cells, and restore your skin's natural glow.

The coffee grounds in our scrub are rich in antioxidants that help protect against free radicals and environmental damage. The soap base contains shea butter which helps to nourish and moisturize your skin while providing a gentle lather. With regular use, you'll see an improvement in the tone and texture of your skin!

Plus, every purchase helps empower women around the world through job creation - $1 from each order will be donated to amazing companies creating positive change. Feel good about making a difference while pampering yourself with BLACK AFRICAN COFFEE SOAP & COFFEE SCRUB CELLULITE today!.