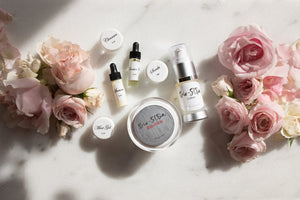 Almost every individual struggles with the annoying lines or stretch marks on their skin. These occur when the skin is stretched during pregnancy or growth spurt in teenage years or other reasons such as when you're in your weight loss/gain journey. 




If stretch marks have been a concern for you lately, and you'd like to reduce them to have clear skin, then it's time to try our Treatment 1 Box for Stretch Marks Reduction. 




The best part is it will help you erase the stretch marks at 100%, and you won't be able to find such an easy-to-use and effective treatment to get rid of such pesky marks. 




It's a box full of amazing products that will help in fading the stretch marks away. 




Bio-Stria® System 7 Stretch Mark Treatment Includes: 1 Bio-Stria®Stretch Mark Treatment 7-Part System provides a rapid reduction in the appearance of stretch marks at 100%.




Bio-Stria® Reduces the appearance of New or Old Stretch Marks since it is completely organic and safe on all types of skin.

 

Bio-Idra-After Optimizes Effectiveness of Bio-Stria How it Works After your payment watch our VIDEO PROCESS and we will show you the 7-Part System.




Here's what you'll find in the Bio Stria  Treatment 1 Box for Stretch Marks Reduction:

3ml Cleanser

3 ml Mint Gel

3gr Scrubs

3ml Serum

15ml Lotion

3ml Booster Oil

3 pages Instruction's

2 Gauzes

1 Folio

30 ml Bio-Idra After Care




All the items are made from organic ingredients and are suitable for almost every skin type. Plus, we believe in cruelty-free production and thus do not test anything on animals. You can expect excellent results and your stretch marks will begin to fade with regular usage. 




What are you waiting for? Purchase this box today and get started to have clear skin free of pesky marks and lines.
Get results in 14 days and love the skin you're in! Summer is around the corner are you ready for your bikini? 
ARE YOU ON MEDICATIONS?
EMAIL US BEFORE BUYING OUR TREATMENT : info@biostria.com
GOOD NEWS
We partner with amazing companies that are empowering women and creating jobs. Find out more about the impact that the BIOSTRIABOX.
$1 per order will be donated.