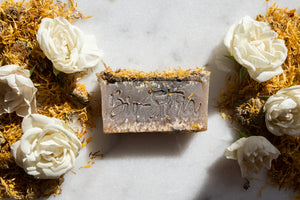 Stretch marks are nothing but just scars on the skin when it's stretched frequently or shrinked abruptly. There's no specific cause of these marks and they can be due to hormonal changes, genetics, weight loss or gain, pregnancy, growth spurts, and more. 
Are you tired of seeing the stretch marks on your skin? Have you been looking for a solution to make them fade? Our Calendula and Himalayan Salt Soap for Stretch can be an awesome solution for you.
Made from organic butter's calendula butter, shea butter, oat butter, tamanu butter, tamanu oil,  wheat germ oil, etc., it's one of the best soaps for stretch marks and can make the scars fade when used regularly. 
Our products are available in kits and are organic with no preservatives or additives, and are not even tested on animals. If you want your stretch marks to fade quickly, don't miss a chance to purchase the Calendula & Himalayan Salt Soap! 
How to use:
Use the soap while taking a shower

Take a washcloth or simply lather the soap in your hands.

Wash thoroughly, focus on the stretch marks area and rinse clean.

Enjoy a clear and smooth skin after a few uses. 

It can be used 2-3 times a week.
GOOD NEWS
We partner with amazing companies that are empowering women and creating jobs. Find out more about the impact that the BIOSTRIABOX.
$1 per order will be donated.