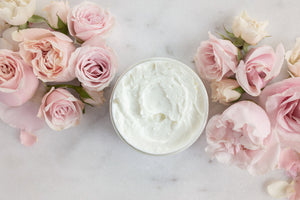 African Shea Butter, Firming Body Boost, Stretch Marks

Product description: Introducing our new FADE Cream for Stretch Marks! This unique formula is made with African Shea Butter and other natural ingredients like Safflower Butter, Coconut Oil, Oat Oil, Tamanu Butter, Tamanu Oil, Macadamia Butter and Wheat Germ Oil. Plus it's GMO-free and gluten-free. Our FADE Cream has a gripping Pink Grapefruit aroma that goes deep into skin to visibly firm skin laxity while improving the appearance of common problem areas by deeply smoothing, softening and firming your skin. With regular use of this body boost cream you can reduce stretch marks and improve your overall skin health.

And best of all when you purchase our FADE Cream for Stretch Marks you're helping to empower women around the world! We partner with amazing companies that are creating jobs so $1 from every order will be donated. Get ready to feel confident in your own skin with the help of our new FADE Cream for Stretch Marks!.