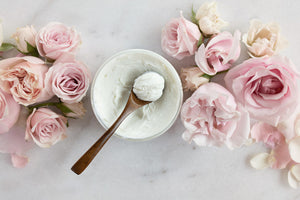 Choosing beauty or grooming products isn't an easy task, especially when you're looking for some specific issues like stretch marks or scars. You need to select the ones that are not only effective in reducing the marks but are also gentle on your skin.
If the annoying lines or stretch marks have been bothering you and you aren't able to find a solution to prevent them from happening, then Luv Factor, the Best Cream for Stretch Marks by Bio-Stria has you covered! 
Stretch marks usually occur in the growth spurt years in teenage, weight loss/gain journey, pregnancy, etc. No matter what's the reason for the stretch marks on your skin, you can use our cream and expect outstanding results. 
It is made from organic ingredients including green tea butter, safflower butter, shea butter, coconut oil, olive oil, tamanu butter, tamanu oil, oat oil,  and wheat germ oil Vitamin E is GMO-free and gluten-free. You can find it in an 8 Oz/227 gm packaging. 
In addition to being effective at preventing stretch marks, you'll also love the lovely aroma of the products; a gripping Pink Grapefruit aroma that goes deep into the skin. It's easy to apply and will leave your skin feeling silky smooth.
How to use:
Clean the area with stretch marks with water and a cleanser/soap.

After drying it, take a pea-size amount of the cream and gently apply.

Use it twice or thrice a week and notice amazing results.
GOOD NEWS
We partner with amazing companies that are empowering women and creating jobs. Find out more about the impact that the BIOSTRIABOX.
$1 per order will be donated.