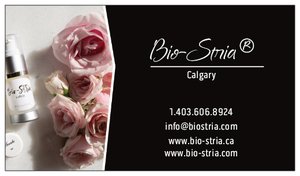 Raised Print, UV Business Cards

Answer: You'll love our BIO-STRIA BUSINESS CARDS! These cards are made with raised print and UV technology to make sure your business card stands out. Our commitment to making a difference doesn't stop there - we partner with amazing companies that are empowering women and creating jobs. Plus, for every order placed, $1 will be donated.

Our business cards offer you plenty of advantages. They look professional and high quality, helping you leave a lasting impression on clients and potential customers. And they're durable too – no need to worry about them bending or tearing in your wallet or pocket!

So why choose BIO-STRIA BUSINESS CARDS? With these cards, you get the best of both worlds – great looks plus an opportunity to support an important cause. Get yours today and help us make a difference!.