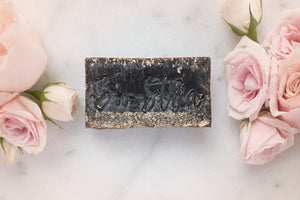 Many people have to deal with various cosmetic issues and stretch marks being one of them. These marks appear as lines on the skin and are usually related to weight changes, puberty, pregnancy, etc. 
Though stretch marks are totally normal, men and women still get anxious about their appearance and are often in search of a solution that will make the irritating marks fade away. If you're one of them too, then you should definitely try our Organic Black Soap for Stretch Marks. 
Handcrafted with perfection, our soap is made of organic ingredients including coffee scrub, coffee butter, oat butter, shea butter, coconut oil, pumpkin butter,  and oil vitamin E. It is a  black African coffee soap, weighing 88gm, that deeply exfoliates the skin and is an ideal solution for stretch marks reduction. 
The best part about the Organic Black Soap for Stretch Marks is it keeps the skin moisturized for 24 hours. Also, we pride ourselves in offering cruelty-free items, that is they're not tested on animals. 
How to use:
Wash the area with stretch marks.

You can take a washcloth or simply lather the soap in your hands.

Wash thoroughly and rinse clean.

It can be used 2-3 times a week.
GOOD NEWS
We partner with amazing companies that are empowering women and creating jobs. Find out more about the impact that the BIOSTRIABOX.
$1 per order will be donated.