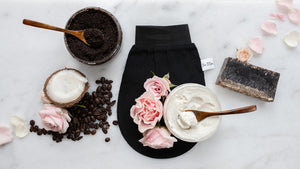 Cellulite cream, caffeine

Our CELLULITE SOAP, CREAM, SCRUB & GLOVE is the perfect solution for those looking to reduce the appearance of cellulite. Our unique blend of natural ingredients and caffeine helps you get rid of cellulite fast! You'll love the handmade texture that glides on smoothly and absorbs quickly into your skin. Plus, our unbreakable formula is designed to last longer than other creams so you can enjoy its benefits for a long time.

You'll be delighted with the results! Our Cellulite Soap, Cream, Scrub & Glove will help tone and firm your skin while reducing dimples caused by cellulite. It's also packed with antioxidants that protect against environmental damage and keep your skin looking youthful. Best of all, when you purchase this product you're helping us make a difference in the world – $1 from each order will be donated to amazing companies empowering women and creating jobs! Get ready to feel confident in your own skin with CELLULITE SOAP, CREAM, SCRUB & GLOVE today!.