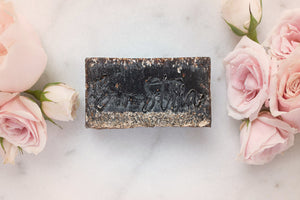 A large number of people, especially women, face trouble dealing with Cellulite. It makes them feel conscious about their looks and keeps them anxious too. However, cellulite is caused by fat that bulges into the skin's dermal layer and is also due to many other things such as age, gender, genetics, low blood flow to a body part,  diet, and more.

Well, if you've been too concerned about cellulite, then our Detox Cellulite Soap can be helpful in making you get rid of it or at least minimize it to a great extent. It is made with organic ingredients including coffee scrub, coffee butter, oat butter, shea butter, coconut oil, pumpkin butter,  and oil vitamin E. 
The Detox Cellulite Soap deeply exfoliates the skin and is an ideal solution for people with cellulite. It weighs 90 gms.
How to use:
You can use the soap while showering or simply wash the area with cellulite.

Take a washcloth or simply lather the soap in your hands.

Wash thoroughly and rinse clean.

It can be used 2-3 times a week.
GOOD NEWS
We partner with amazing companies that are empowering women and creating jobs. Find out more about the impact that the BIOSTRIABOX.
$1 per order will be donated.