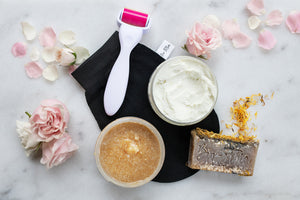 Nowadays, a large number of people deal with one of the most common skin concerns - Stretch Marks. These are lines or scars on the skin that appear because of a variety of reasons including genetics, extreme weight gain or weight loss, pregnancy, building muscle, and more. 
Though it has become a normal thing on the skin, people still get anxious while finding a way to get rid of them. They're considered as annoying marks and don't worry if you haven't been able to find a solution for it yet as our Microneedling for Stretch Marks can be an ultimate solution for you. 
Made with the highest quality material, our microneedling will help you have a clearer skin. This derma roller is going to be your best companion to fight against the marks and as you'll glide it over the skin, it will gently open the collagen fibres and end up breaking the tough, stringy fibers that are responsible for the scar tissues. 
The best part is our products are sold in kits and you get other beneficial products too. We pride ourselves in offering cruelty-free items, that is they're not tested on animals. You can use this microneedling device three times a week. 
How to use:
Properly clean the area on your body with stretch marks. You can use a cleanser or one of our soaps.

Dry the area and use a numbing cream if required.

Take the roller and gently roll it 5-7 times in all the directions – vertically, horizontally, and diagonally.

If you feel comfortable, apply a little pressure and keep going.

Blood spots are normal to appear, but if you experience any type of other discomfort like pain or irritation, stop the usage immediately.

After you're done, apply a serum or moisturizing cream for a calming effect.

You can repeat the process after 2-3 weeks, and notice changes.
GOOD NEWS
We partner with amazing companies that are empowering women and creating jobs. Find out more about the impact that the BIOSTRIABOX.
$1 per order will be donated.