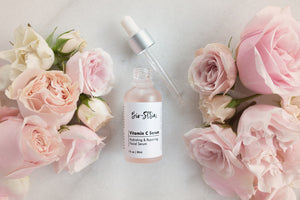 VITAMIN C SERUM CANADA
Our facial serum combines the highest quality Vitamin C and Hyaluronic Acid, creates a potent antioxidant effect that permeates skin smoothly and helps lighten and brighten your skin. This incredible formula fades sun spots, discoloration and refines skin texture. Leave you a youthful glow appearance.
Main Ingredients:
Vitamin C,Hyaluronic Acid,Rosa Canina Fruit,Aloe Vera Extract
Anti-aging, Anti-Puffiness, Anti-wrinkle, Black Head Remover, Blemish Clearing, Dark Circles, Firming, Lightening, Moisturizer, Nourishing, Pigmentation Correctors, Skin Revitalizer, Whitening
 

GOOD NEWS

We partner with amazing companies that are empowering women and creating jobs. Find out more about the impact that the BIOSTRIABOX.

$1 per order will be donated. 
Skin Type:

Combination, Normal, Dry, Sensitive, OILY, All skin types,

Target Area:

Body, Neck/Throat, Face, Hands

Product Name:

vitamin C Serum for Face

Active Ingredients:

Vitamin C, Hyaluronic Acid, Vitamin E

Main function:

Anti-aging, Anti-wrinkle

Keyword 1:

20% Vitamin C

Keyword 2:

Whitening Serum

Skin type:

Alll Skin Types